How Many Whiskey Shots To Get Drunk?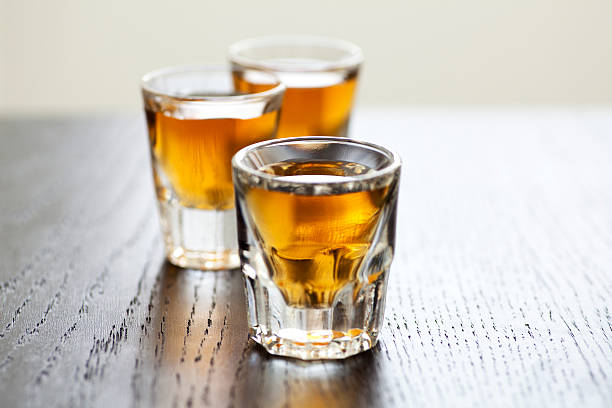 It is widely acknowledged that consuming a large quantity of alcoholic beverages can lead to inebriation. However, not everyone desires to become "blackout-drunk" and may wish to consume alcohol in moderation. The amount of alcohol required to reach a state of drunkenness can be determined by examining your blood alcohol concentration, which is influenced by various factors such as the type of drink and the rate of consumption.
Although the primary focus of this discussion is whiskey, it is important to note that different articles can assist you in determining the amount of vodka, tequila, or champagne needed to become intoxicated. Alcoholic beverages can differ significantly in strength and alcohol by volume percentage. The percentage listed on the bottle indicates the drink's potency. Beer and wine are typically lower in alcohol content, and as a result, it takes a more significant quantity of them to achieve drunkenness than whiskey or vodka.
Since whiskey usually contains 40% alcohol by volume, it does not take much to become drunk. While various factors influence the likelihood of becoming drunk, a general rule of thumb suggests that consuming approximately 5 fluid ounces of 40% whiskey is sufficient to cause intoxication.
If you prefer to measure in shots, the average shot is 35 ml. Therefore, it is estimated that consuming four or five shots of whiskey will result in drunkenness.
Sex is one of the factors that can significantly impact how quickly someone becomes drunk. Women have a different alcohol metabolism than men, which can lead to them becoming more inebriated from the same amount of alcohol. However, this can be influenced by other variables, such as whether one has eaten a full meal and had enough sleep before drinking.
The way a woman's metabolism reacts to alcohol is different from a man's, as it breaks down the alcohol in the liver at a slower rate. Although this is unavoidable, it is not as significant an issue as other variables will also contribute to one's overall tolerance to alcohol.
Natural tolerance is another factor that can affect how alcohol impacts an individual. As every person's body functions differently, some people can have a higher or lower tolerance for alcohol compared to others. This natural tolerance can be improved and trained by consuming more alcohol, allowing the body to get used to it and break down the alcohol more quickly, resulting in increased tolerance for alcohol.
A person's body weight is also an essential factor when it comes to alcohol consumption. The amount of blood in the body determines how quickly one feels drunk, and a larger person will have more blood, making it less likely for them to become drunk quickly. Conversely, a smaller person, especially one who is underweight, is more likely to become intoxicated quickly and may require less alcohol to do so.
Eating habits also play a crucial role in alcohol consumption. It is widely believed that drinking on an empty stomach is not advisable, as the alcohol is absorbed more quickly in the small intestine. Consuming a meal before drinking allows the alcohol to be absorbed more slowly, making it take longer and more alcohol before one becomes drunk.
Sleep deprivation may not directly affect alcohol tolerance, but it can amplify the side effects of being drunk, such as feeling drowsy and having a slower reaction time. Being well-rested before drinking can prevent these amplified effects of drunkenness.
While it may be tempting to want to become drunk quickly, it is also essential to do so affordably. There is no point in purchasing an expensive bottle of whiskey only to chug it down rapidly to achieve a state of drunkenness.
It is no secret that whiskey with a higher alcohol by volume (ABV) percentage will produce a quicker and more potent effect than whiskey with a lower ABV percentage. On average, whiskey has an ABV of 40%, or 80 proof. However, there are also stronger whiskeys sold with an ABV percentage of approximately 60%, labeled as "cask strength." These whiskeys can produce a more potent and quicker effect than a standard bottle.
Despite the stronger effect of cask strength whiskey, they are often considered a luxury item with a premium price tag. Cask strength whiskeys are typically more seasoned and complex in taste, providing a unique texture or experience. It would be a waste to consume these whiskeys solely for the purpose of becoming drunk quickly.
If the goal is to purchase an affordable whiskey that will quickly lead to inebriation, a blended whiskey from any liquor store will suffice. Some well-known brands of whiskey that fit this profile include Jack Daniels, Jim Beam, Johnnie Walker, and Famous Grouse. Although these whiskeys may seem like typical or ordinary choices, they are crafted with passion and sold at an affordable price. They are a cost-effective and efficient option for those seeking to become inebriated. It is worth noting, however, that the first glass or two should be savored and appreciated for their excellent taste.
The length of time it takes for whiskey to affect the body varies and is comparable to one's alcohol tolerance. This is due to different factors, and no two individuals are the same. For example, consuming whiskey on an empty stomach will result in a faster onset of drunkenness, as it is absorbed at an accelerated rate.
Typically, it takes approximately thirty minutes for the effects of whiskey to take hold. This can be used as a guideline for regulating alcohol consumption. If you find yourself drinking more than one drink per thirty minutes, you are likely drinking too quickly.
To slow the process of becoming drunk, it is crucial to drink plenty of water and have a satisfying meal beforehand. Despite being a liquid, alcohol has a dehydrating effect, which can be offset by maintaining adequate hydration before, during, and after drinking. Consuming food before drinking will also slow down the absorption of alcohol, preventing it from reaching the small intestine as quickly. As a result, alcohol will be absorbed more gradually, and you will become drunk at a slower pace.
It is worth noting that drinking water and eating food will not prevent you from becoming drunk. Rather, it will help to regulate the rate at which you become inebriated, allowing you to enjoy alcohol in moderation and without overdoing it.
Can 1 shot of whiskey get you drunk?
It depends on several factors, such as your gender, weight, metabolism, and tolerance to alcohol. For some individuals, one shot of whiskey may be enough to feel inebriated, while others may require more.
How quickly does whiskey get you drunk?
The speed at which whiskey affects the body varies depending on several factors, such as alcohol tolerance, the strength of the alcohol, and whether or not you consume it on an empty stomach. Typically, it takes around 30 minutes for the effects of whiskey to take hold.
Is three shots of whiskey a lot?
Again, this depends on various factors, such as your body weight, gender, metabolism, and tolerance to alcohol. For some individuals, three shots of whiskey may be enough to cause drunkenness, while others may require more or less.
Can whiskey be drunk straight?
Yes, whiskey can be drunk straight. Many whiskey aficionados prefer to drink it neat or on the rocks (with ice), as this allows them to savor the flavor and aroma of the whiskey without any added ingredients. However, whiskey can also be used as a mixer in cocktails and other drinks.
Thank you for visiting Fashionably Bombed, we hope that the information provided has helped you to know how many whiskey shots to get drunk.